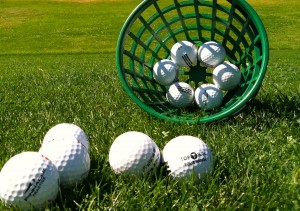 Become a Range Baller
Introducing our new monthly range ball program. If you like to practice and hit lots of balls this is the deal for you.
Here's what you get:
1 large bucket every day ($300 value)
Automatic monthly renewal on your credit card
You are entered into our Preferred Player Program
You can play golf at the Pleasanton Golf Course for $5 one hour before sunset
All for just $119 per month
This membership is currently full, please fill out this form to join our waitlist!
MEMBERSHIP RULES: For the $119 membership, balls can only be obtained by the member. Balls may be shared with someone else. In the event a member decides to cancel the membership, a 30 day notice is required. The auto renewal is the 30 days after purchase of card. Unused balls must be returned to the Pro Shop. Balls cannot be taken off site. Violators may be prosecuted. Members can obtain one large bucket a day. Last ball sold will be ½ hr prior to sunset (Except Sundays). I agree to abide by the rules stated above. Failure to comply with rules will result in loss of monthly card. Please note that Pleasanton Golf Center can modify or end this program at anytime. Participants would be given at least 30 days notice of such occurrence.