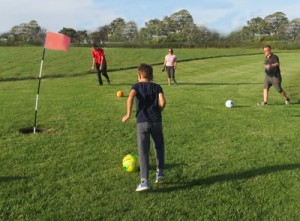 What do you get when you combine soccer and golf?
The amazing, incredibly addictive sport of foot golf! Foot golf is a sport that combines the rules of golf with the skills and fun of soccer! You play with a standard-size soccer ball and keep score like golf—the lowest number of kicks into the hole wins! This family-friendly sport is easy-to-learn and fun for groups of all ages and skill levels.
 You can call the course directly for tee times and book through the golf shop. Foot golf is fun to play, and easy to learn. You don't have to be a star soccer player or a great golfer to pick it up. All skill levels and ages can play together, and it's great for groups and families.
 Plus, a round of foot golf—on average—takes less time to play than a round of golf. Depending on pace of play, you can finish 9 holes in less than 90 minutes! If you play 18 holes, you can finish in under 2.5 hours. Plus, foot golf utilizes the golf course, so you're outside, staying active, and getting some exercise in as you play!
 Come kick it with us and enjoy the new sport of foot golf!
 Bring your ball and athletic shoes, no cleats allowed
Events
We will accommodate and help you plan team outings, club events, fundraisers, coaches meetings, parties or whatever event you have in mind.
Available any day of the week at designated times
Book up to 1 year in advance
Pavilion Rental available
Paid 1 week in advance
Straight Tee Times
Minimum 16 players at regular green fees rate*
Groups Tee off every 7-8 minutes
Shotgun Start
Minimum 72 players at regular green fees rate*
Course closed and dedicated to event
Every group starts at same time on different holes
The Pleasanton Golf Course Event Pavilion is available for rental at a discounted rate for our golfing/foot golfing groups. The facility will seat up to 72 people and includes:
Gas BBQ, kitchenette, ice machine, picnic tables, TVs and trash removal
Accommodations can be made for larger groups and our staff can assist with BBQ & catering needs. Please contact Jay Fragomeli, General Manager, at 925-484-4005
Pleasanton Golf Course at the Alameda County Fairgrounds
For more information call: (925) 462-4653